After almost 5 months of the offseason and no coasters I was really looking forward to opening day this year especially with it almost 2 weeks earlier than last year. I knew it would be cold but didn't care how cold it was as long as it wasn't raining or snowing.
I got to the park a little after 12:00 and now at the metal detectors they are asking everyone wearing a belt to take it off and put it in the bin before you walk through the metal detector. My belt never set off the metal detector last year so it's kind of annoying.
I went to processing first to add the dining pass to my season pass before the line got long. My pass still says Premium on it but the new pass just has it printed under the picture compared to the pass I got at the end of last season where it said Premium actually on the pass and not printed by the computer.
At the ticket booths, there were signs up saying Kingda Ka was closed but I saw it running so I went there first and saw the line was in the station. They were only running 1 train since one train was on the transfer tracking with the restraints missing from some of the seats and the other train was being worked on. It was still less than 15 minutes which isn't too bad. It was a great way to start the 2013 season.
I went to Bizarro and then walked through the empty queue and found a mostly empty station. The last few years, the Bizarro crew was really slow with double stacking with 3 trains and stacking with 2 trains even when the trains were less than half full. Today the crew was awesome with no stacking at all with 2 trains running. It was very nice to see and will help keep the line moving on days when the park is more crowded.
Runaway Mine Train was next, and was a walk on. Since no one was in the station the ride op at the microphone asked if the whole train wanted a re-ride and everyone said yes. From the ride I saw El Toro was cycling trains with water dummies and Rolling Thunder was cycling an empty train.
I was going to stop at Blackbeard's but it was closed with the train partially in the station.
Skull Mountain was a 4 train wait for the last row. Shelby was at the control panel/microphone and as usual dispatches were fast.
Nitro was running 2 trains with a station wait. It was great to be riding Nitro again and for some reason, it didn't really make me feel like the season was really starting again until I rode Nitro.
Next was Green Lantern. I was surprised to see the single rider line was open since it was a walk on. I got 2 rides and then went to Superman which was a 2 train wait. Dispatches were slower than normal with it taking around 5 minutes per dispatch.
The parachutes had less than a 5 minute wait and 6 out of 8 parachutes were running which was nice to see considering how low crowds were.
I went to The Dark Knight with a 2 minute wait to get into the pre-show and then got a re-ride since no one was waiting.
I was going to go back to Nitro for another ride but felt like I had enough rides today since I never power-ride on the first trip of the season since I usually need to get used to riding coasters again after the offseason.
Overall it was a good trip to the park and much better than my first trip to the park last year.
I didn't take a lot of pictures today since I was wearing gloves and didn't feel like having to keep taking off my gloves to take the pictures.
Ride Count:
Nitro, 1x
Bizarro, 1x
Green Lantern, 2x
Skull Mountain, 1x
The Dark Knight, 2x
Parachutes, 1x
Runaway Mine Train, 2x
Kingda Ka, 1x
Superman Ultimate Flight, 1x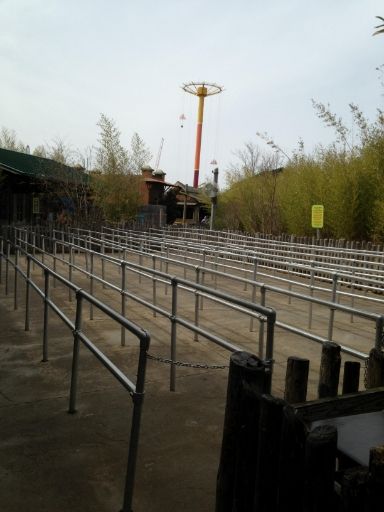 This is always nice to see
The midways weren't crowded