Opening day for the Haunt. Let me say that the quality of the photos is cr**py because I left my DSLR at home. Stupid Hurricane Kyle's outer bands were supposed to bring rain. They did, but as we left they did.
Also, got on every coaster except for Laser which was closed. I guess they wanted to pull another Hercules on us. That means they close it with no notice.
We got to the park around 12:30ish. First two rides were Talon and Hydra. Both were very exciting. Then we did some flats and went to eat food. Gotta love my mother's company for getting free food until about 6:00. Food was good. We then departed for Voodoo. Front row. Great ride but not as fast as it should have been. Still overpowering that last set of station LIMs. Wanted to ride Laser next but it was closed. Then we headed over to Steel Force. That line was long and running one train. WTF!?! Only one train on Steel Force? They never do that. (They did put the second one one while we were in line.) Thunder Hawk was next. Whatever they did with TPR was there they un-did. That ride got its wild ride back. Toke a stroll though Headstone Hallow and saw Lasers headstone across from Hercules's. Its gonna be hard with that gone. It started to rain when we went out to eat lunch. Back on over to Voodoo after that. Then we got inline for Steel Force and all on the same train. That was never planed though. Went back up to Talon and Hydra then over to Boo Hill. The first Haunt of the day. Boo Hill was different from last year. A few new rooms and many more actors. Not a scary thing but really cool. After that we went over to Dominator. Rode Space Shot (Red Tower) then went to the Whip. After Whip we went to the Wild Mouse. Then off to Club Blood. Didnt go in because of the dude outside. It was hallirous watching him scare the s*** outta people inline. Club Blood is by FAR the best indoor maze now. Then we went to the "Dead Awaking" show. That was a nice change of pace. Different from what I thought it would be though. After that I got a sub from Subway and went to Terror Square. Short walk because it was right next door. There we got some kids in front of us for line jumping. After that we got the same group of kids for assault. (Throwing ice at the actors.) Glad that they were taken back to their bus after that. I bet their whole group/party had to leave. Terror Square was nice but half the actors just let us pass by them. The other half really did their jobs though. Nice Haunt zone and probably the best outdoor one now. Props were nice. I guess our UFO flew to VallyFair! this year though.
On to the pictures.
[center]
Bye Laser. We shall miss you!
Its the new tilty support design!
Lift Hill picture.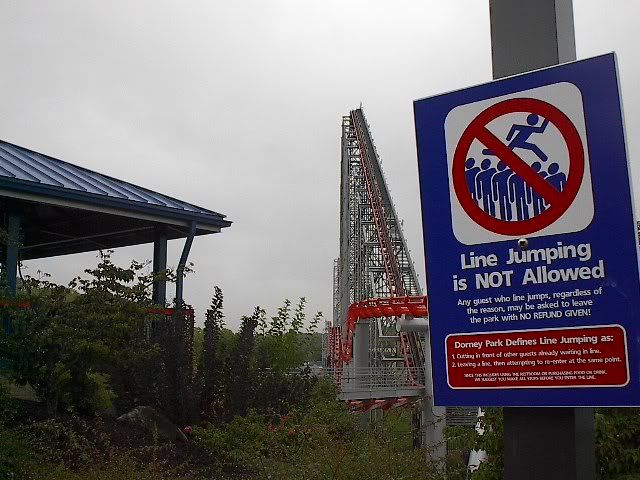 No Line Jumping.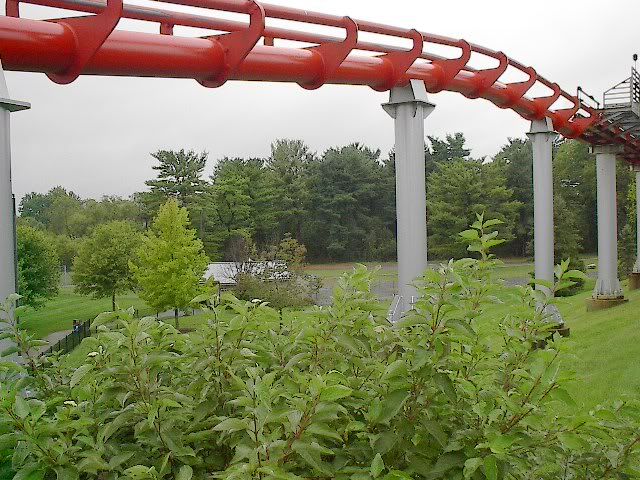 Brakes? Orange flags? You decide.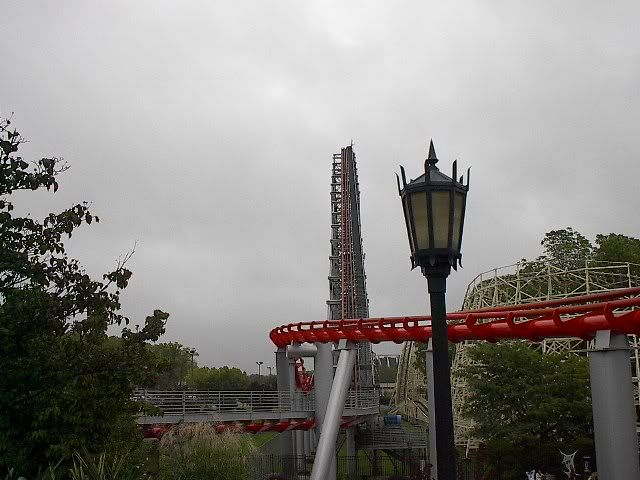 A second tilty support!
Laser. Be warned. There are many of these Laser pictures.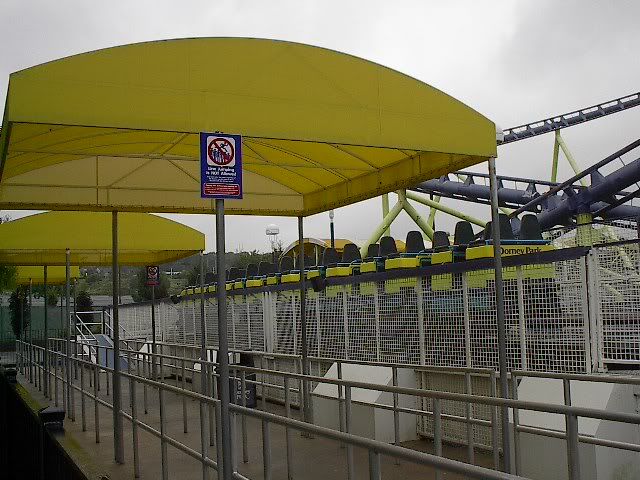 Laser queue and one train.
Laser loop and helix.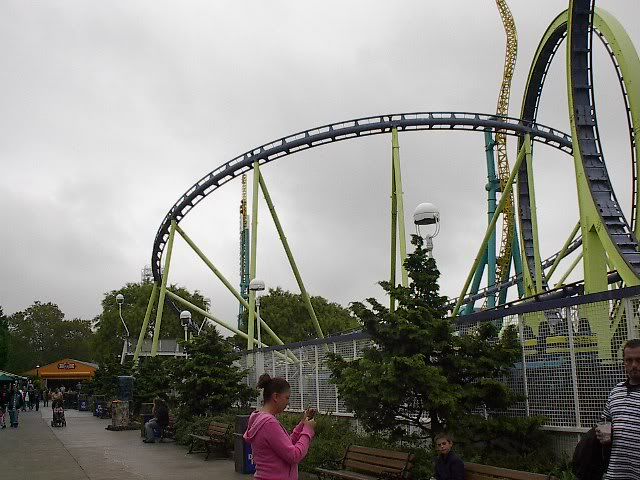 Laser helix or Voodoo helix?
Track shot.
Laser lift and turn.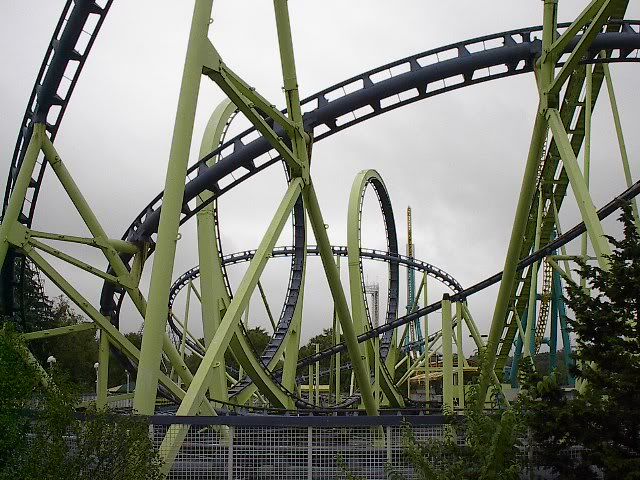 Laser bulk.
Voodoo not only takes your sole, it also ruins your hair! (Thats my girlfriend btw.)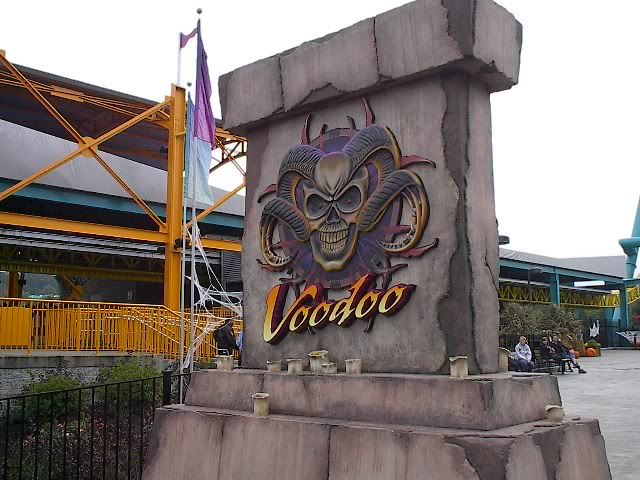 Sweet Voodoo signage!
Back to Laser.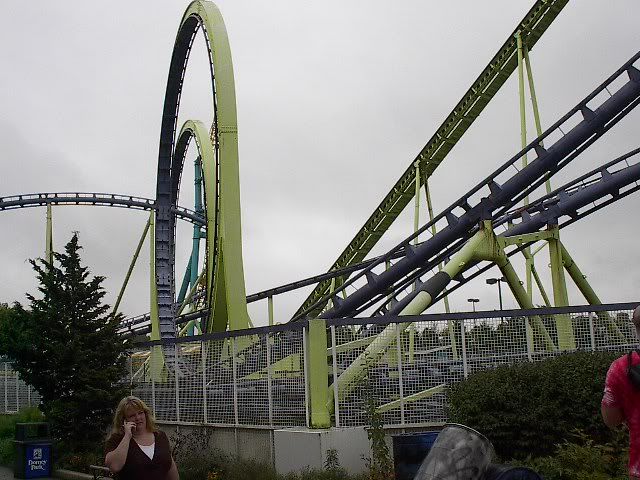 More Laser.
Voodoo twist!
Laser with extra of Voodoo doing the twist!
You thought this was gonna be another Laser shot huh? Gotta yea!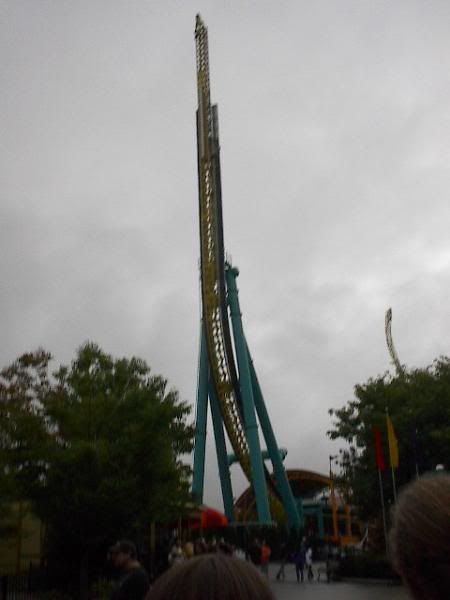 Voodoo brake tower.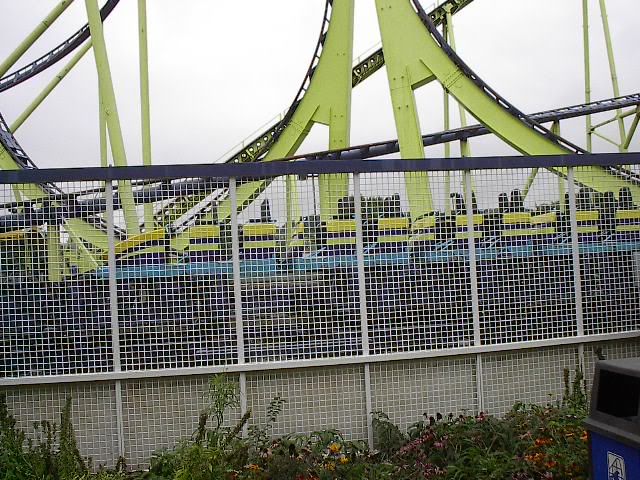 Fence got in the way...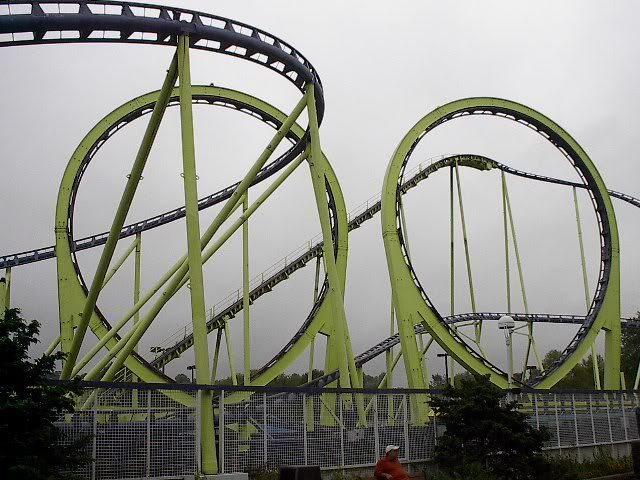 Laser Loopz!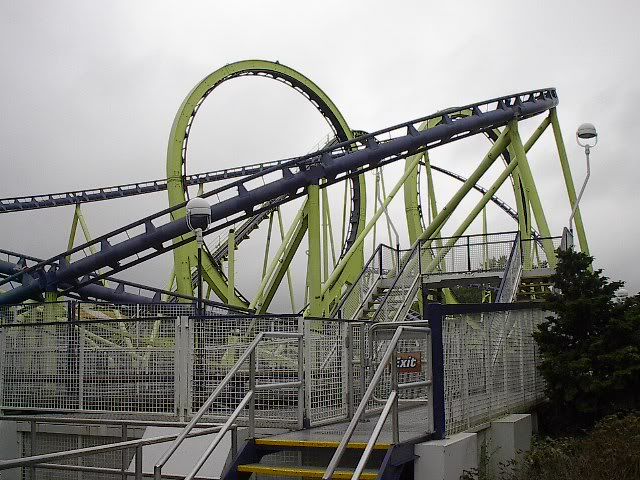 Laser Loop/Helix.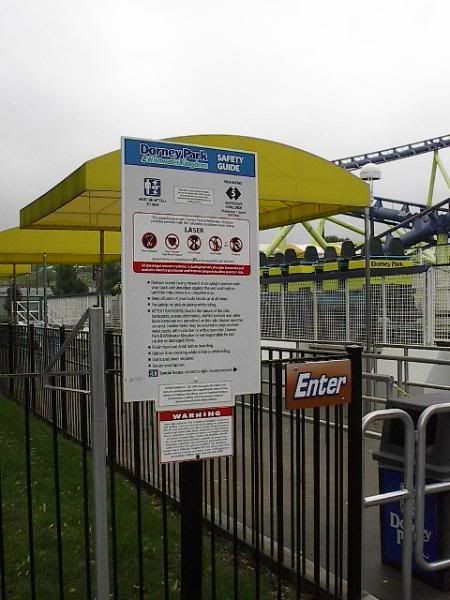 Laser information sign.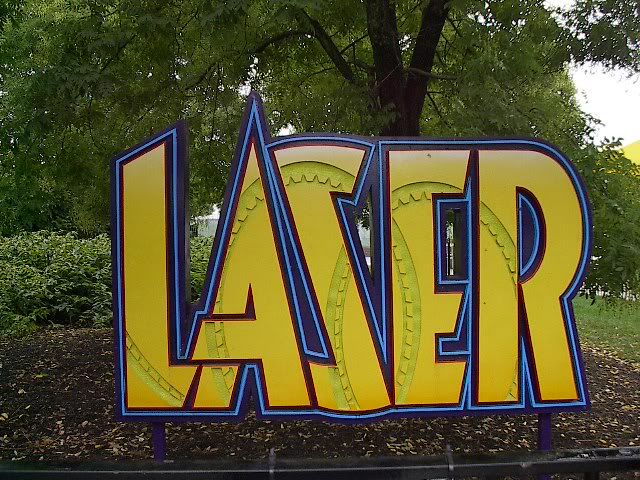 Laser ride sign.
YAY! Cornstalkers!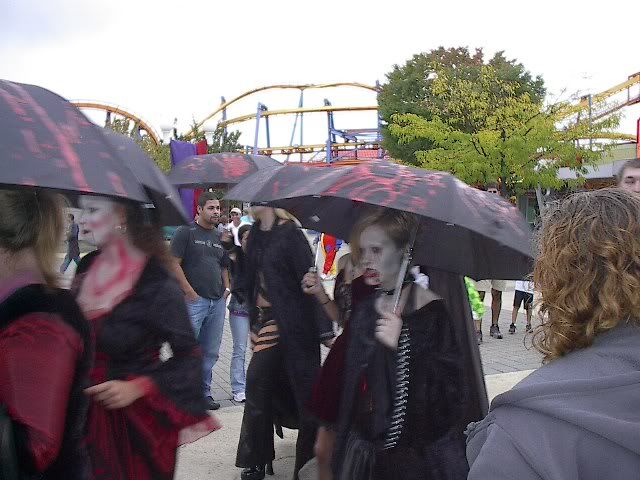 YAYer! Club Blood actors. Stupid camera killed this shot.
Back to the force. Steel Force!
I dont know what to say for these next few.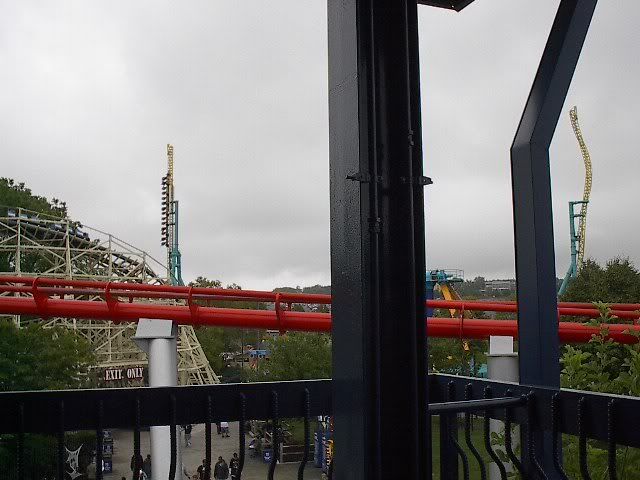 No, I didnt expect to get Thunder Hawk in this picture.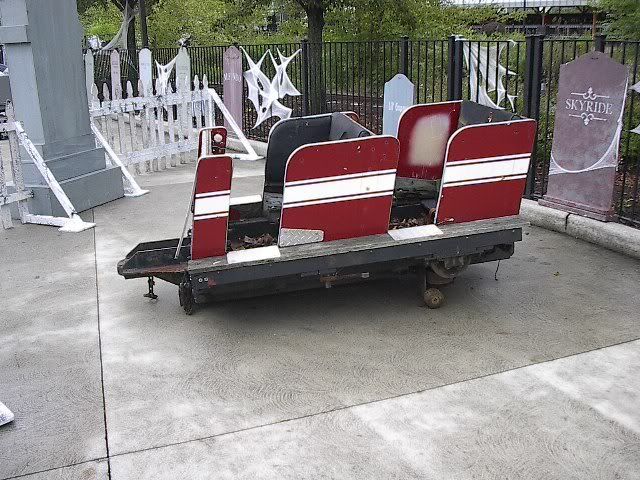 This looks so..... I only wish I could place this...
Fishes!
Duckies!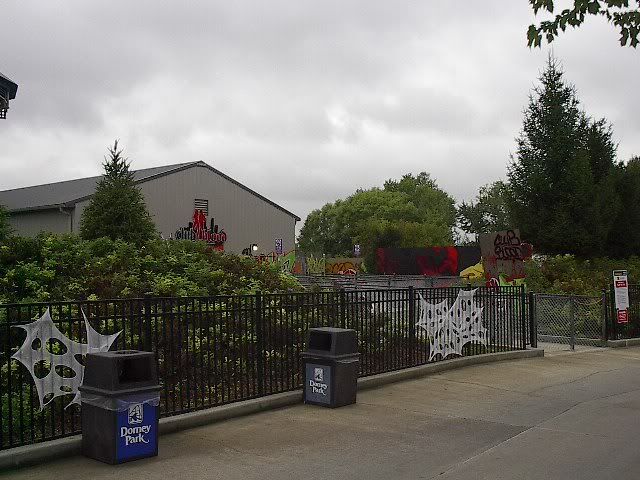 Club Blood.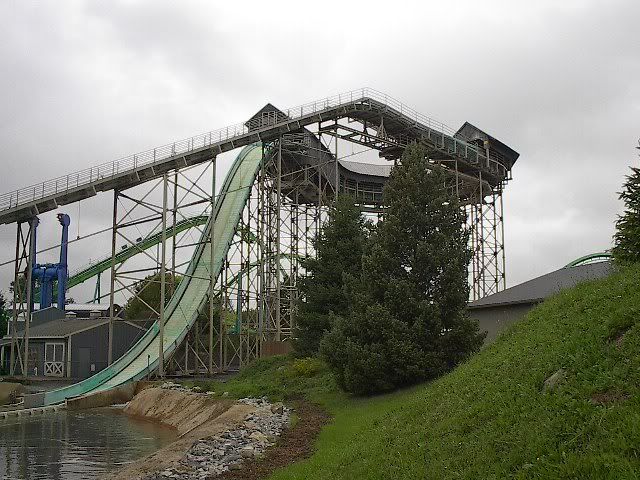 White Water Landing. Yes that was operating today.
Wild Mouse!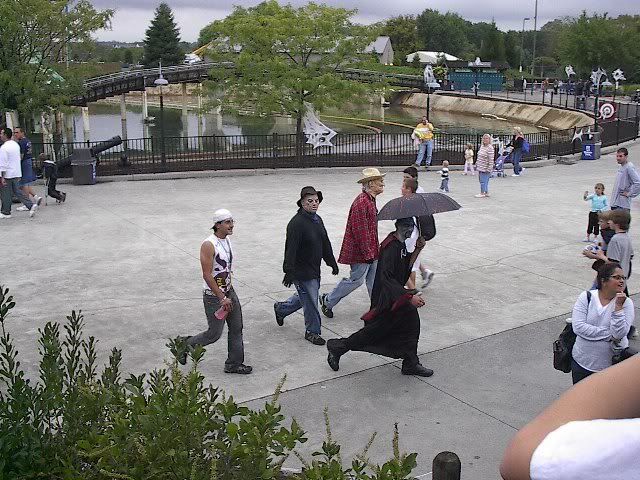 More actors.
Hydra! Do a barrel roll!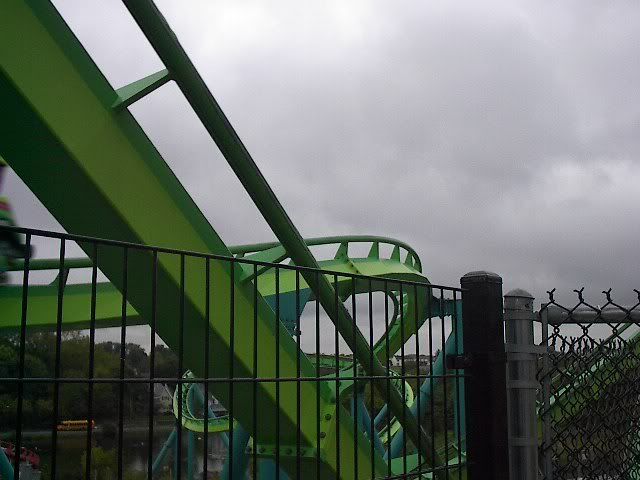 Dang! Just missed it.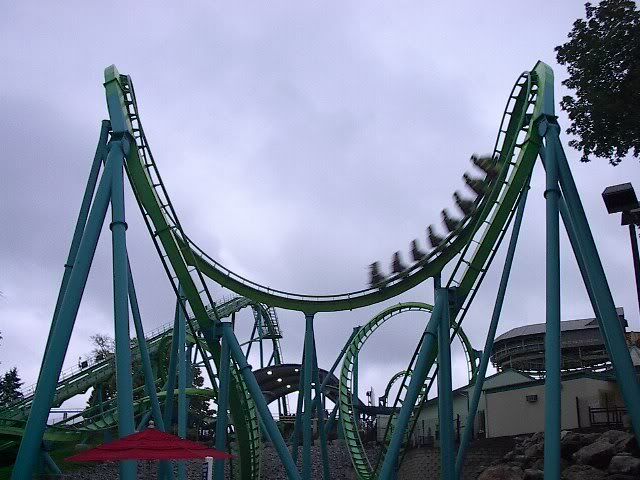 Hydra and the Cobra Roll.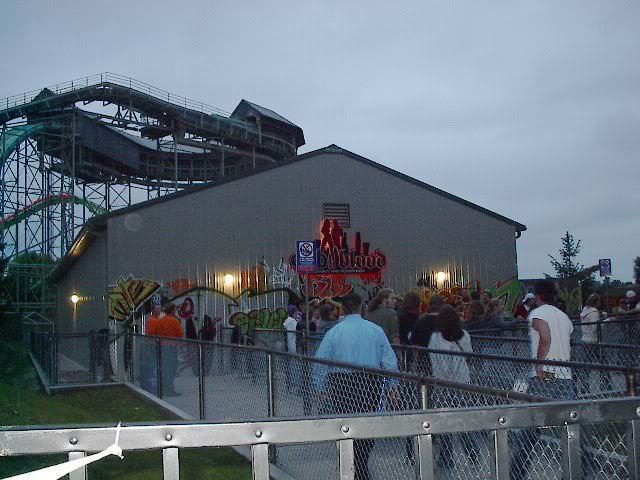 Club Blood again.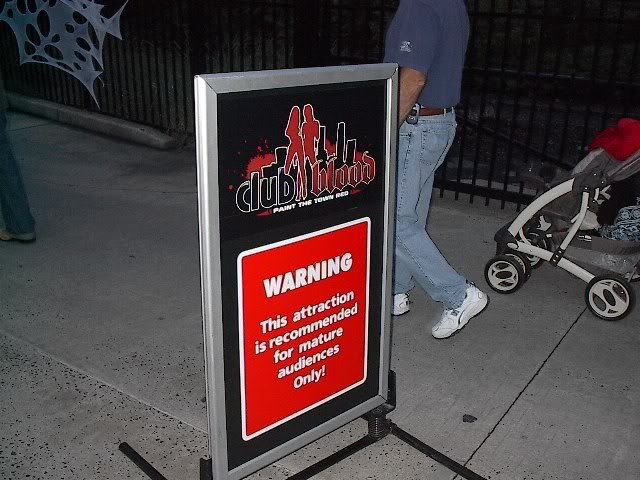 Warning!
Club Blood again.
Doctor of Doom. Beware of the OF![/center]
Thus concludes this report. Damn! that toke and hour to type!?!