I'm not going to write a full report today
Time in park, 10:30 - 3:45
I got to the park right before 10:30, the new handheld scanners were not working so they were manually writing down everyone's pass number in the Premium Pass line. I entered the park right at 10:30, the other lines still had the gates down at 10:30.
Nitro started with 2 trains, then went down to 1 train and later in the afternoon, went back to 2 trains.
Skull Mountain had 2 trains with a 0 - 2 train wait both times I was there
Blackbeard's was closed and the control panel area was covered, they were cycling the train but not for the full circuit. It stopped on the lift when I walked by the ride.
Superman had 1 train with what looked like a 45 minute wait and walking out of the park a little before 4:00, around a 25 minute wait
Green Lantern had 2 trains running with no line
El Toro was closed in the morning, it opened later with I think 1 train
Rolling Thunder had just the left side open with I think 2 trains
Kingda Ka was closed until at least 1:00, 1 train was running. It was a 25 minute wait for a middle row but there was a 10 minute breakdown right before I boarded the train so it was just over 35 minutes. After that the line looked like it was around 45 minutes.
Runaway Mine Train had no wait with 2 trains running.
Bizarro had 2 trains running with no wait, like Sunday dispatches were fast with no stacking.
The Dark Knight had no wait other than to get into the pre-show room. People still think it's a thrill ride since I heard some people asking the person at the entrance if it went upside down. After they got in line I told them it's a wild mouse like at Hershey and Dorney and they thanked me for letting them know. The park really should put on the ride information at the entrance it is a wild mouse coaster.
Fender Benders had a 1 cycle wait around 12:30 and a 2 - 3 cycle wait later in the day.
Ride Count:
Nitro, 4x
Skull Mountain, 3x
The Dark Knight, 2x
Green Lantern, 1x
Fender Benders, 1x
Bizarro, 2x
Runaway Mine Train, 1x
Kingda Ka, 1x
This is how most of the walkways looked for the first hour the park was open
Blackbeard's control area covered up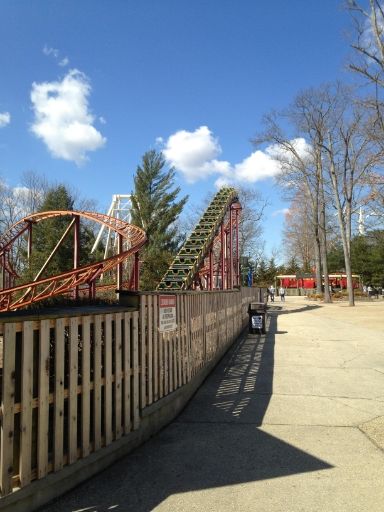 Train stopped on the lift hill
The water blasters at the Log Flume are still winterized
I never noticed this building before, it's in a smoking area in the Lakefront
Nitro's line at around 3:30